As soon as they finished their finals, 5 CEE undergraduates took off for Tibet.
Stacy Naglestad, Uri Shelby, Jordan Toy, Haleemah Qureshi, and Stacey Rutherford (L-R) were participants in the Tibetan Village Project (TVP), a non-profit, non-political organization run solely by Tibetans.
TVP promotes sustainable development and entrepreneurship while preserving Tibet's cultural heritage. Establishing clean water in rural Tibet is TVP's latest project, as lack of clean water is the main cause of major medical problems.
The goal of the Berkeley team was to design a water treatment system that would immediately solve the contamination issue while still being a system that Tibetans could manage on their own.
What was your system?
Team with water treatment system
Our design consisted of 2 buckets that held the water as it was purified in 3 sequential steps:
We disinfected the water, i.e., we treated it for bacteria, by adding chlorine;
We poured the water over tightly woven fabric; and then
We poured the water through activated carbon which was held in place by the bottom bucket.
How did you decide on this design?
We researched existing water filtration systems to determine how to adapt them to the unique challenges of Tibetans living at very high altitudes and in extremely cold temperatures.
For instance, we knew that the ceramic filters that have been successful in other parts of the world would crack in Tibet. And the cold weather would inhibit the growth of friendly microorganisms used in a biosand filter.
At the same time, we researched resources that were either locally produced or easily available in rural Tibet. We used a form of bamboo charcoal as the activated carbon because of its local availability and because it removes the taste of chlorine, a taste unfamiliar to Tibetans.

Then we imagined using the filter in our day to day lives (day to day lives that we couldn't really imagine since we don't live in rural Tibet). Was it convenient? Was it something that could be integrated into the Tibetans' daily routines?
Last, we had to consider cost. TVP gave us a pretty tight budget. The cheaper our filter was, the more homes we could put it in, and thus the more people we could help get access to cleaner water.
How was your design received?
We delivered the filters to 10 households and allowed them to use it for a few days. Then we were to visit the people and hear what they had to say. The visits were nerve wracking for us because our filters did not eliminate all of the chlorine taste, and we didn't know if the traces of chlorine would be acceptable.
We were relieved to discover that overall, the families accepted the water. Some genuinely liked the taste (even with the tinge of chlorine); others were willing to overlook the taste because they understood the filters provided cleaner, healthier water.
"Witnessing the Tibetans' shift in understanding that the filters were important along with their willingness to embrace them, despite the unfamiliar taste, was the most rewarding part of the assessment," said Rutherford.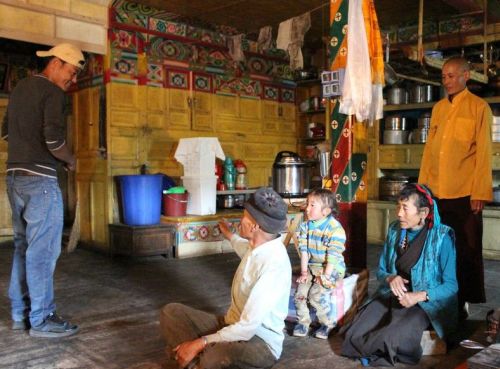 One reason our design was so well received was because we decided to ask our guides to implement the water treatment system. The people trusted the filters because they were being shown to them by someone they knew who shared their cultural heritage.
Although the design of a system is an important part of the process, the TVP project allowed us to walk through designing, building and implementing the filter from start to finish.
Being involved in the whole design and implementation process allowed us to spot weaknesses so that we could work with locals to find a solution.
"When everything that could possibly go wrong, went wrong."
You would think that the completion of our first filter would be a key moment, but instead it was the moment we discovered that everything that could possibly go wrong, went wrong!
When we arrived in China, we discovered that we could not procure many of the parts needed for our design. Our original plan included very basic materials—or so we thought. We never imagined that we would not be able to get something like a rubber gasket. But we couldn't. We ended up having to buy rubber sheeting and cut our gaskets out of that sheet. Then the drill we brought broke on the first day when the converter fizzled.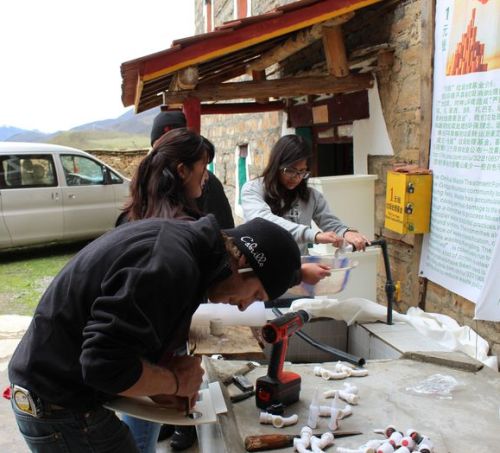 "That first day we thought, 'Oh my god, what are we going to do?'" said Rutherford, "but then we devised workarounds to use what was available to us. We repaired faulty parts that we had mistakenly purchased. We became an assembly line efficiently cranking out multiple water systems.
"In the end we all felt very accomplished that we were able to make it work!"
Our most challenging moment ended up being our most rewarding.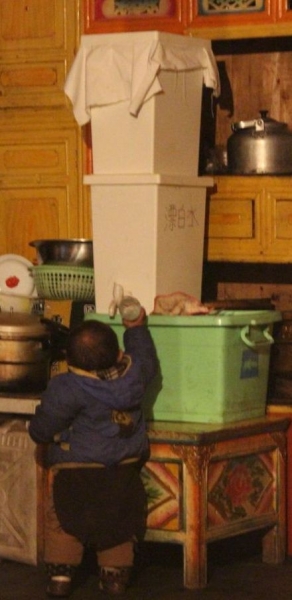 Another key moment was watching children in the village become involved in the use of the filter.
The photo (above) is of the grandchild of one of the local families. He could not get enough of the water and kept bringing his bottle back to fill up at the filter.
Children are the most like to be affected by drinking unfiltered water. Adults boil water before drinking, but children tend to drink water cold and so are more susceptible to waterborne pathogens.

"Another moment happened when we watched a family make adjustments to its system when they realized that they had put in too much chlorine. To watch them care and conduct their own assessment was very rewarding." said Rutherford.
What inspired you in Tibet?
The local people. They persevere in harsh conditions and warmly welcome strange foreigners without being able to speak one word of a common language. Everyone we met seemed both content and at ease with their lives. And our hundreds of pictures could not capture the beauty of the natural surroundings.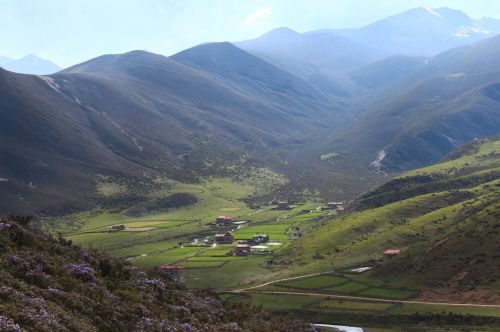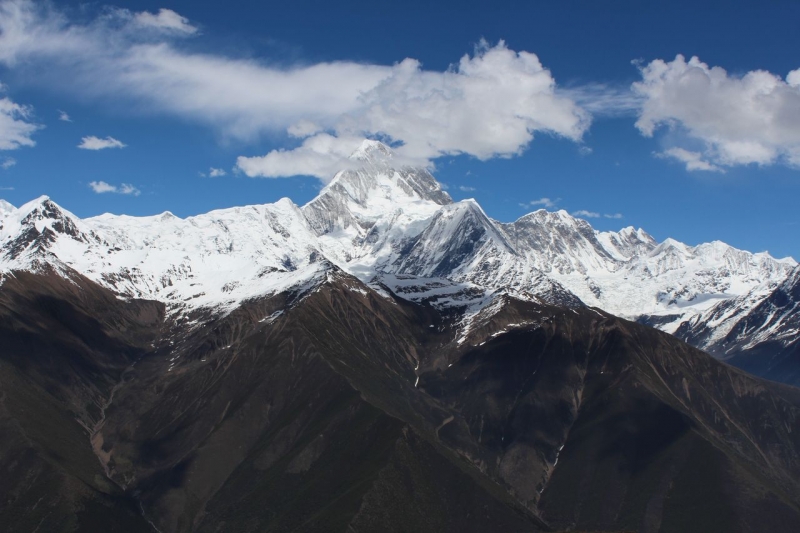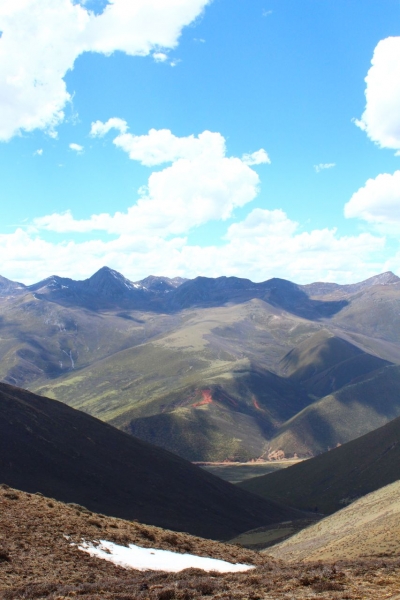 The next step?
We have implemented 10 filters in one village. Five other universities have traveled to Tibet to implement their designs in neighboring villages. Ironically, out of all the schools, TVP has chosen Berkeley and Stanford's systems as the two best. They will continue monitoring the use of these filters and gathering feedback from the locals. Eventually, the two schools' designs will be merged into one optimal water purification system.