Celebrating the Career of
Anil K. Chopra
Horace, Dorothy and Katherine Johnson Professor of Engineering Emeritus
Oct. 2-3, 2017
University of California, Berkeley campus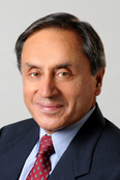 We are pleased to announce a Retirement Symposium and Celebration honoring the Career of Professor Anil K. Chopra to take place on Oct. 2-3, 2017. In 2015, Professor Chopra retired after 46 years of service on the faculty of UC Berkeley. Professor Chopra has an impressive list of contributions in earthquake engineering including fundamental technical knowledge, teaching and instruction, and consulting. He is well known around the world for his popular and accessible textbook, Dynamics of Structures: Theory and Applications to Earthquake Engineering, first published in 1995, and updated in 2001, 2007, 2012 and 2017. His impressive list of awards include: election to the National Academy of Engineering (1984); recipient of American Society of Civil Engineers Nathan M. Newmark Medal (1993), the Norman Medal (2014, 2001, 1991 and 1979), the Raymond C. Reese Research Prize (1989), and the Walter L. Huber Research Prize (1975); recipient of Earthquake Engineering Research Institute's Housner Medal (2002). He has been recognized by the magazine International Water, Power & Dam Construction as among the "60 most influential people in the hydropower and dams industry who helped shape the course of the global hydro and dams business over the last 60 years", and among "the 20 people who have made the biggest difference in the dam engineering sector over the past ten years." He is also the long-time general editor of Earthquake Engineering and Structural Dynamics, the premier international journal of the field. This is only a small list of his accomplishments, demonstrating that he has been integral to the rapid advancement during the past half-century of earthquake engineering.
Planning for the symposium is underway, and the website will be updated as the plans evolve. If you would like to make a contribution to help defray the costs of the symposium, please visit the Contribute page. If you would like to contact the organizers, please send an email to clairejohnson@berkeley.edu
Steering Committee
Keri Ryan
Associate Professor, Civil and Environmental Engineering
University of Nevada, Reno
John Hall
Professor of Civil Engineering
California Institute of Technology
Jack Moehle
Ed and Diane Wilson Professor of Structural Engineering
T.Y. and Margaret Lin Professor of Engineering
University of California, Berkeley
Claire Johnson
Technical Editor
University of California, Berkeley
Planning and Fundraising Committee
Ushnish Basu
Senior Scientist
Livermore Software Technology Corporation
Rakesh Goel
Associate Dean, College of Engineering
CalPoly San Luis Obispo
Nicos Makris
Professor, Structural Engineering
University of Central Florida
Registration
The registration page is curently under development.
Venue, Accommodations and Transportation
The technical program will take place at Sibley Auditorium on the University of California, Berkeley campus. Included in the registration fee, a reception will take place on the evening of the Oct. 2, at a location to be determined on campus.
Check back later for:
Maps of the venue

Suggested accommodations for out of town guests

Parking information for those who wish to drive
Program
The technical program is currently under development. The program will include many of Professor Chopra's former students and close collaborators that had the honor of working with him during the course of his career.
Sponsors
This sponsors page is under development.
Contribute
Thank you for your interest in contributing to the symposium honoring Professor Emeritus Anil Chopra, to be Oct. 2-3, 2017 on the UC Berkeley campus. Some costs of the symposium will be covered by a participant registration fee. However, donations for the symposium are being sought to defray costs and limit the cost of attendance. Donations will be used toward venue and catering, administration, and travel assistance for speakers and important guests. We are seeking contributions at a few different levels:
 
Platinum: $10,000 and above (Includes up to 5 complimentary registrations)
Gold: $5,000 and above (Includes up to 2 complimentary registrations)
Silver: $2,000 and above (Includes 1 complimentary registration)
Bronze: $500 and above
Alternatively, please contact the Fundraising Committee if you would like to discuss a named sponsorship opportunity. Send an email to
clairejohnson@berkeley.edu
You can use any of the various methods below to contribute directly.
Online
Check
Checks should be made payable to the UC Berkeley Foundation. Enclose a note instructing that the gift is for the Department of Civil & Environmental Engineering Fund/Chopra Symposium. Mail the check to:
University of California Berkeley
University Relations | Gift Operations
P.O. Box 774
Berkeley, CA 94701-0774
Wire Transfer
Stocks, Securities, and Other Gifts
For help with these gifts, please contact Karen Holtermann, College of Engineering, 510/643-6990 or
ksh@berkeley.edu
.
We thank you for your support of the Anil Chopra Symposium at UC Berkeley!