New transportation team submits final design to ASCE Mid-Pac competition
A group of 9 undergraduates have restarted the CEE Transportation Team. Their inaugural competition will be the ASCE Mid-Pacific Regional Competition in Chico, CA on April 22.
The challenge given to transportation teams was to improve access to a shopping mall in Chico and the surrounding commercial areas.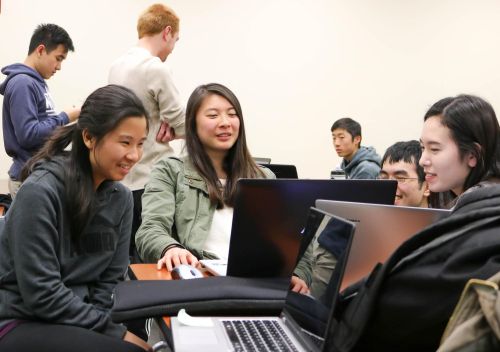 The Transportation Team's solution was to consolidate 2 existing intersections into 1 centralized intersection and adjust the placement of the mall's entryway.
They hope that the consolidation of traffic movements will reduce congestion and increase the accessibility of the area.
[At left] Design members compare AutoCAD drawings and work through solution iterations.
"I'm incredibly proud of the work these students did to pull this project together with relatively little prior experience. The ability to come together and push each other to succeed was really an honor to witness," said Henry Hammel, Co-Project Manager.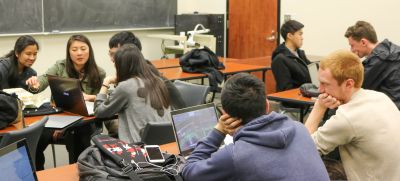 [At left] During the regular decal time, members break up into design and planning teams to work out different components of the project.
As the smallest and youngest of all the CEE student competition teams, members experienced an incredibly dynamic and close-knit atmosphere as they gained experience in traffic flow simulations, numerical modeling, and roadway-civil design.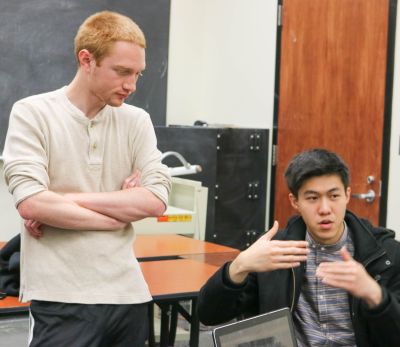 [At left] Project managers debate different approaches to solve problems under deadline.
The team plans to build on the experience and exposure gained this year in order to create an even better design next year. Since the design prompt is interdisciplinary, the team is actively searching for students interested in construction management, civil design, computer modeling, and nonlinear programming and optimization. Look out for the CEE Transportation Team decal next fall as you enroll in classes!
"I think everyone on this team wants to keep building, to do things even better next year, now that we've emerged from the initial rush of getting it off the ground," said Shien Jinn Sam, Co-Project Manager.
The team appreciates the support and encouragement of the numerous faculty and graduate students in the Institute of Transportation Studies (ITS).
Go Transportation Team!
Go Bears!
Photo credit: Sean Yen, Cal Transportation team member