The Berkeley Institute of Transportation Engineers (ITE) was chosen as the winner of this year's ITE James H. Kell Student Competition. Along with receiving a $1.5K award, the winning school would get to define and run the Kell Student Competition at the Western District annual meeting in June, 2017.
Cal ITE sent 4 students to the four-day conference in San Diego. They were Cal ITE president Chris Chin (CE '18), past president Sean Yen (CE '17), treasurer Henry Hammel (CE '18), and Matt Reiter (MS student in Transportation Engineering and City Planning). 
The Berkeley team ran the Kell competition for 35+ students from schools in the western US.
The team was also helped by SFBay ITE, which made a generous contribution that allowed the 4 students to fully fund their travel costs.
"We are incredibly grateful for the funding and resources ITE provided for us. It really shows their dedication to supporting students as an organization," said Hammel.
The students also competed in the student traffic bowl, which involved testing their knowledge of transportation trivia, and attended networking events and presentations by industry professionals.
Chin was selected as a speaker at the conference. He presented on his research with TE PhD student Zahra Amini and CEE Professor Alexander Skabardonis.
Their project involves traffic operations along the heavily congested westbound approach of the eastern span of the SF-Oakland Bay Bridge. The final paper explored why congestion is so severe at the tollbooths, metering area, and merging area and how to improve operations.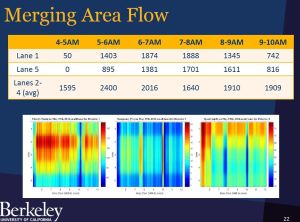 Follow Cal ITE on Facebook at Facebook.com/BerkeleyITE/.
E-mail

ucberkeleyite@gmail.com

for how to get involved with Cal ITE!
Photo credit: Zaki Mustafa