Yousef Bozorgnia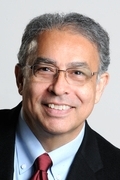 Professor In Residence
Structural Engineering, Mechanics and Materials
Office Hours:
Wednesday 1-3PM
by appointment
Biography
Yousef Bozorgnia is Professor In Residence at the Department of Civil and Environmental Engineering, University of California, Berkeley. He was the Executive Director (2009-2016), and the Associate Director (2004-2009), of the Pacific Earthquake Engineering Research Center (PEER).
He received his B.S. degree from Sharif University of Technology (Iran), and M.S. and Ph.D. degrees from the University of California, Berkeley.  Dr. Bozorgnia's expertise includes earthquake engineering and ground motion hazard. In 2004, Dr. Bozorgnia and Prof. Vitelmo V. Bertero edited an 1100-page book entitled "Earthquake Engineering: From engineering seismology to performance-based engineering".  
Dr. Bozorgnia is a licensed Professional Civil Engineer (PE) in the State of California, and has been a Fellow of the American Society of Civil Engineers (ASCE) since 1998. He was a Member (2008-2012) & Chair (2010-2011) of the National Executive Committee of the ASCE Technical Council on Lifelines Earthquake Engineering (TCLEE). Dr. Bozorgnia is a member of "SHAKY Board", Seismic Advisory Board of the State of California Division of Safety of Dams (2011-present).
Dr. Bozorgnia was the Associate Editor of the Bulletin of Seismological Society of America (2007-2010) and is currently the Associate Editor of Earthquake Spectra, a scientific journal dedicated to earthquake engineering.