Four CEE undergraduates were among 40 Berkeley students who, in partnership with students from the University of Denver, designed, funded and built the RISE Home to compete in the DOE Solar Decathlon competition. 
The Decathlon challenges student teams to design, build, and operate sustainable net-zero energy homes.
The CEE students (L-R in photo) were UC Berkeley CEE graduates Brenton Kreiger, Sam Durkin and seniors Ruth McGee and Joan Gibbons.
Eleven student teams from around the world competed in 10 different categories that included architecture, innovation, water and energy use. The DU/UCB team was awarded third place. 
The RISE Home's stackability and versatility impressed visitors while organizers and juries saw how well the home operated.
RISE won the Appliances contest and placed second in Energy, Health and Comfort, and Home Life.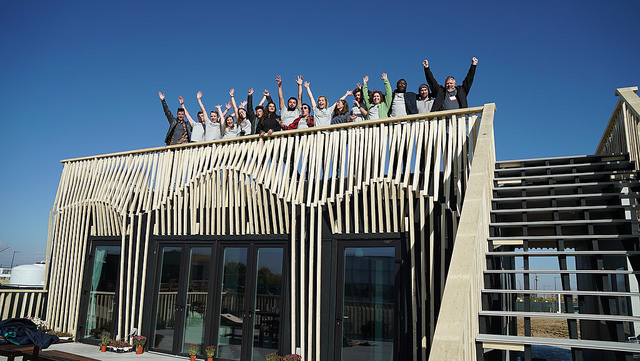 RISE Home was designed for Richmond, CA as a medium density housing solution.
The house is powered by a solar array and the home stores the energy allowing it to operate off the grid. Its kitchen contains appliances that maintains the home's net-zero energy. The countertops are made from 97 percent recycled materials.
Bedrooms have Murphy beds and the walls move to allow for an expanded living space. The bathroom has a Grey Water Recycling System that collects bath and shower water, filters, disinfects and recycles it for use in the toilet.
"It's honestly surreal. It's so hard to imagine two years ago when we first started, and now this day actually happening," says Joan Gibbons. "Standing in the house that we built is the best feeling."
"Getting the house here was winning and everything else was icing on top of the cake," says Durkin, the UCB student project manager.
"We put something together that was an amazing finished product. It really is the people who put their hearts and souls into the house that made the house so special."
Tour the DU/UCB RISE Home
 
See