Kara L. Nelson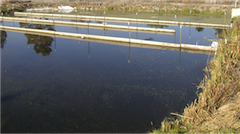 Disinfection of Water by Sunlight
Sunlight is a powerful natural disinfectant, and yet there are still many knowledge gaps in understanding the fundamental mechanisms that lead to inactivation of microorganisms by sunlight.  Our research group studies both the direct and indirect sunlight-mediated processes that lead to inactivation of viruses and bacteria.  We also use our growing understanding of the fundamental mechanisms to evaluate the implications of sunlight disinfection in three important application areas: wastewater disinfection by natural treatment systems; solar disinfection of drinking water (SODIS); and beach water quality.  This work has been supported by the National Science Foundation, the Blum Center, and the International Water Management Institute.
Image: Photolytic Oxidative Periphyton cell, Discovery Bay Treatment Wetlands Research Facility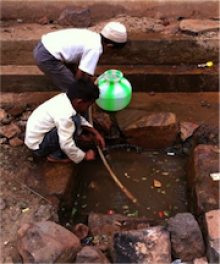 Evaluation of 24x7 versus Intermittent Water Supply in Hubli-Dharwad, India and Arraijan, Panama
In many cities in the developing world, water is delivered through the piped network intermittently.  In Hubli-Dharwad, water arrives for a few hours every 2-5 days.   For the past several years, however, Hubli-Dharwad has been delivering water continuously, or "24x7", to 10% of the population through a World-Bank funded pilot project. We evaluated the water quality, health, and economic impacts of 24x7 water supply compared to intermittent water supply.  Currently, we are working in Arraijan, Panama, where the intermittency of water delivery is not as severe, but still poses a potential risk to water quality. This work has been supported by the National Science Foundation and the Blum Center, and the Inter-American Development Bank.
Image: Boys collecting water from a submerged tap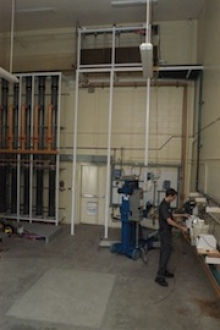 Tertiary Treatment for Non-Potable Water Reuse
Stringent regulations exist to ensure the safety of wastewater that is recycled for beneficial purposes in the United States.  To inform risk assessments, new treatment technologies and approaches must be evaluated.  Former PhD student Gordon Williams conducted research on the impact of loading rate on tertiary filtration of wastewater at a large pilot facility that we constructed at the Monterey Regional Water Pollution Control Agency.  As a result of his research, several full-scale treatment plants in California are now able to operate their tertiary filters at higher loading rates, which allows them to recycle more wastewater at minimal cost.  Another former student, Rabia Chaudhry, investigated the mechanisms of virus removal by membrane bioreactors (MBRs) and demonstrated that high removals of pathogenic viruses can occur due to attachment of viruses to mixed liquor solids, as well as rejection by the cake layer on a ripened membrane.  This project was part of the Tailored Water Theme at ReNUWIt.
Image: Former PhD student Gordon Williams at the pilot-scale flocculation tanks and dual media filters at the Monterey Regional Water Pollution Control Agency water reclamation plant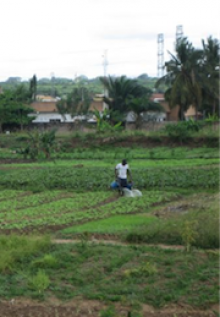 Wastewater Irrigation of Food Crops
Unlike in the United States, the majority of wastewater in the developing world is discharged directly to the environment without any treatment.  Farmers downstream of cities often use the untreated wastewater for irrigation.  We are studying the health risks associated with this practice in Accra, Ghana as well as Hubli-Dharwad, India.  This work has been supported by the International Water Management Institute, the UCB Center for Emerging and Neglected Diseases, and the US EPA (through an EPA STAR Fellowship).
Image: Urban farmer irrigating with wastewater in Accra, Ghana
Stormwater Treatment by Bioinfiltration
Many cities have embraced stormwater management practices that involve increased capture of storm runoff by various types of bioinfiltration basins (e.g., rain gardens).  We are exploring the potential for different types of natural and geomedia, as well as more engineering operation of such basins, to remove and inactivate pathogens from stormwater before it is discharged to surface waters or infiltrates to recharge aquifers.  This project is part of the Stormwater Capture and Reuse Theme at ReNUWIt.  
Image: Demonstration bioinfiltration basins in El Cerrito, CA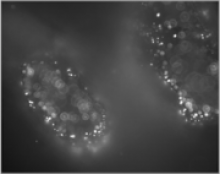 Novel Disinfection Approaches
Our group works on development and evaluation of novel disinfection approaches, including nanoparticles of zero-valent iron (nZVI), iron oxide coatings, and quaternary ammonium silane (QAS) coatings.  These heterogeneous disinfection approaches require interactions between the disinfecting surface and the microorganism, and a major limitation is the presence of natural organic matter.  This work has been supported by the National Research Foundation of Korea (nZVI) and the Sustainable Products and Solutions Program (QAS and IOCS coatings).
Image: Inactivated E. coli cells on surface of QAS coated sand.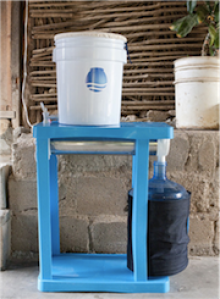 Household Water Treatment and Safe Storage
Many households in the developing world only have access to drinking water sources that are at risk of microbiological contamination.  As a result, household water treatment and safe storage is promoted by many organizations, including the World Health Organization (WHO).  Our research group works on both the development and evaluation of point-of-use (POU) technologies as well as storage practices.  Technologies include the Mesita Azul (a UV Tube technology that was developed at UC Berkeley), SODIS, and QAS coatings.  We recently completed a 400-household evaluation of the Mesita Azul in Baja California Sur, which was implemented by the NGO Cantaro Azul (link).  We are an active member of the WHO's HWTS Network (link).  This work has been supported by the Blum Center and the Sustainable Products and Solutions Program.
Image: Mesita Azul household water treatment unit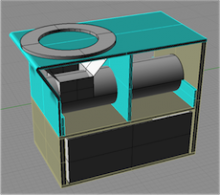 Low-Cost Urban Sanitation and Resource Recovery
Our Safe Sludge research team developed an approach to disinfect human excreta in the toilet itself.  By killing pathogens first, all subsequent activities required for excreta management and resource recovery becomes safe.  The Safe Sludge process harnesses the natural disinfection power of the ammonia present in urine, simply by raising the pH.  This work was supported by the Bill and Melinda Gates Foundation.
Image: Design drawing for pHreeLoo (pathogen free) disinfecting toilet prototype
The Passive Latrine Use Monitor
Much effort is being invested in providing sanitation to the 2.6 billion people that still don't have access to improved sanitation.  However, just because a latrine is built does not mean that it will be used.  The Passive Latrine Use Monitor (PLUM) was developed by a team of Berkeley students, in collaboration with Prof. Tom Clasen at the London School of Hygiene and Tropical Medicine, to provide an objective measure of latrine use.  The information can be used to improve the understanding of sanitation behaviors and how to modify them, and for assessing the intended health, livelihood, and environmental benefits of improved sanitation.
Image: PLUM device installed in a latrine in Orissa, India