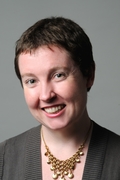 Professor Sally Thompson has been appointed the inaugural holder of the Clare & Hsieh Wen Shen Distinguished Professorship in the Department of Civil and Environmental Engineering.
This is a well deserved honor, and a recognition of Thompson's path-breaking work in eco-hydrology.
Professor Thompson is a leader and rising star in eco-hydrology, one of the fastest growing branches of hydrology. She received the NSF Career award as well as the Early Career Award from the Hydrology Section of the American Geophysical Union (AGU). She also received the Jim Dodge award for best paper in Hydrology and Earth System Science in 2015, identifying reasons for loss of water flow.
Hsieh Wen Shen and his wife, Clare, endowed the Chair to support outstanding early career faculty in CEE.
Clare and Hsieh-Wen Shen
An accomplished teacher and researcher, Hsieh Wen became a cornerstone of the CEE Department and an expert in fluvial hydraulics, environmental river mechanics, and basic sediment transport. His research had a tremendous impact on the field of civil and environmental engineering. Professor Shen was elected to the National Academy of Engineering in 1993, and was commended for his pioneering work in the development of flow control and release plans of reservoirs to restore and enhance the ecological environment of rivers.
Clare and Hsieh Wen Shen have been mainstays in the Berkeley civil and environmental engineering community. Together, they journeyed through Hsieh-Wen's progression from doctoral student, to professor and researcher, to university benefactor.
They chose to fund an endowed engineering professorship for as Hsieh Wen says, "we started from scratch, without much money, and we are so grateful to UC Berkeley."