For the past 30 years, Berkeley CEE has competed in the National Concrete Canoe Competition—with amazing results!
Berkeley has qualified for Nationals 21 times, and holds 5 championship titles and 15 Top-5 finishes.
This year, the Concrete Canoe Team aims to dazzle at the April 20 Mid-Pacific Regional Conference with their canoe, OptiCal Illusion.
With a board of officers made up primarily of sophomores, the year has been a big challenge and a great learning experience for everyone. Tasked with designing, analyzing, building and racing a 20-ft. canoe, the team's 6 divisions (Construction, Materials, Structural Analysis, Hull Design, Graphics, and Paddling) have been hard at work.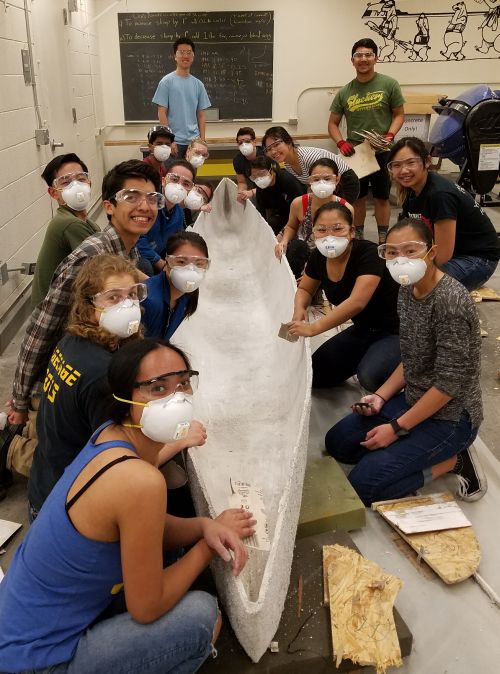 \
Team demolding canoe after 1 month of curing.
After spending the fall semester researching and designing the canoe and their concrete mixes, the team hit the ground running in the new year when they spent 8 hours casting the canoe, cured and strengthened the canoe over the next month, and then sanded and sanded and sanded.
Sanding went on forever.
"But it was worth it to achieve the perfect canvas for us to apply our stunning graphics," says Erin Saiki, Project Manager.
Just this past week, the team finished applying colored concrete in dizzying patterns across the interior of the canoe.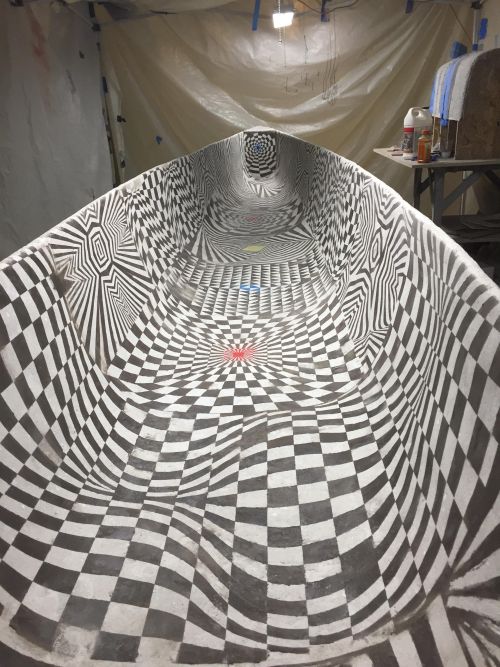 OptiCal's interior graphics made using vinyl stencils and pigmented concrete.
"With only 9 days until Mid-Pac, we'll be spending the rest of our time finishing the outside of OptiCal Illusion, and then sealing everything," says Saiki.
"We don't want to see our beautiful designs bleed away in the water!"

2017 Team at Mid-pac with Bear Necessities
Go Optical Illusion!
Go Bears!