The 2018 CEE Fall Distinguished Lecture will be given Professor Richard G. Luthy (CEE MS '74; PhD '76).  
He will speak on, "Sustainable Urban Water Supplies for California."  See flyer [pdf]
The lecture will take place on Monday, Oct. 29, 5-6pm in Sutardja Dai's Banatao Auditorium with a reception following in the adjoining atrium.  The lecture is free and open to the public.
Abstract 
The speaker came to Berkeley as a freshman in the fall of 1963. That was a transitional year for the campus, which was on the verge of tipping from the relative tranquility of the 1950s to the student activism of the 1960s.  
Similarly, hindsight shows that just as there was revolution on campus, important changes were starting to occur in how we supply, use, and manage water resources for the growing cities in California.  The revolution in our water supply is just as radical as what happened on the campus; however, it has moved at a much slower pace over the past 50-60 years.  
The old ways of coping with California's water needs—overdraft of groundwater, stream depletion, and greater imports—no longer meet the needs of the 21st Century.    The solution to the challenge of urban water security will comprise a combination of conservation, desalination, stormwater capture, water reuse, and water banking.  This portfolio for urban water, including potable reuse, will help dry cities in California and elsewhere achieve more sustainable and resilient water futures.
This presentation will highlight a personal perspective on technical advances and systems management that point the way towards more secure water supplies for water-scarce cities.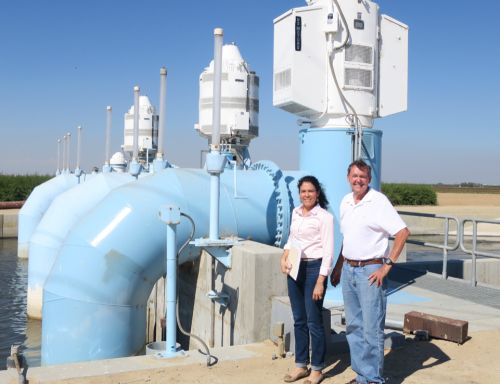 Dick Luthy and Isela Medina at research site.
Short bio
Dick Luthy is the Silas H. Palmer Professor of Environmental Engineering at Stanford University. He directs the NSF Engineering Research Center for Re-inventing the Nation's Urban Water Infrastructure (ReNUWIt) that seeks more sustainable solutions to urban water challenges in the arid west.  His area of teaching and research is environmental engineering and water quality with applications to water reuse, stormwater use, and systems-level analysis of our urban water challenges.  He is a member of the National Academy of Engineering, a 2012 inductee of the CEE Academy of Distinguished Alumni, UC Berkeley, and a Fellow of the Water Environment Federation.