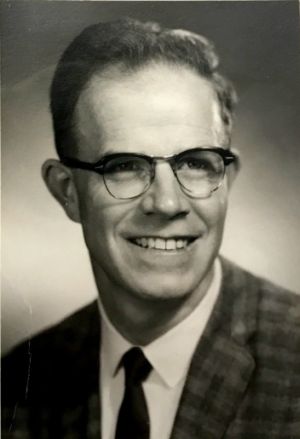 James Anderson, CEE faculty member for a total of 36 years and expert in the theory and practice of surveying, died on August 23, 2018.  He was 92.
Jim joined the Berkeley faculty as an Assistant Professor in 1966.  He taught courses on plane surveying, route surveying, engineering survey measurements, and aerial photographic interpretation, until his retirement from the University in 1991. After his official retirement, Jim continued to teach his survey course for another eleven years as a faculty recall appointee. Among his many publications, he authored or co-authored the books, "Surveying: Theory and Practice," "Introduction to Surveying," and "Solutions Manual, Surveying: Theory and Practice."
He received his BS in Civil Engineering from the University of Pittsburgh in 1949 and then an MS in Transportation and a PhD in Photogrammetry and Geodesy from Cornell University in 1959 and 1964 respectively.
Jim was a member of ASCE, the American Congress on Surveying and Mapping, the American Society of Photogrammetry, Sigma Xi (Honorary Society), and the International Society for Photogrammetry and Remote Sensing.
In 2000-2001, he was granted an honorary membership in the American Society of Photogrammetry and Remote Sensing as "Recognition of Outstanding Accomplishments in the Imaging and Geospatial Sciences."  The honorary membership is the Society's highest honor.
Jim also received the American Congress of Surveying Turner, Collie and Braden Award for best practical paper, "Simplified Explanation of Doppler Positioning," in 1980.
Jim was known for his friendliness and his ability to find joy in life. Students appreciated the clarity, organization and thoroughness in his teaching, and remarked that his labs "were a beautiful experience."
"We are deeply indebted to faculty like Jim who worked tirelessly to build the CEE Department into what it is today," says Chair Mark Stacey.
See James Anderson (1926-2018) obituary from the San Francisco Chronicle [pdf]