Ashok Gadgil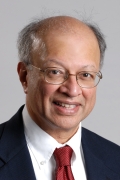 Andrew and Virginia Rudd Family Foundation Chair Professor of Safe Water and Sanitation
Senior Faculty Scientist, LBNL
Energy, Civil Infrastructure and Climate, Environmental Engineering
Office Hours:
During Fall 2018,
Mondays 2:00PM - 4:20PM in Davis Hall, Room 423.  Use sign-up sheet posted outside my office door to reserve your time slot(s).  Students with booked slot get priority over drop-in students (except in emergencies).  In case of my emergencies (I am hopeful, none), I may cancel slots. 
Chow Hall (in the Haas Buss. School Complex of UC Berkeley), room 540, from 5:30PM to 6:00PM
Otherwise by appointment on Wednesdays in Davis Hall, room 423 afternoon

Contact Deke  [Dekedun AT berkeley DOT edu] for setting up an appointment.
Education
Ph.D. Physics, University of California, Berkeley, 1979
M.A. Physics, University of California, Berkeley, 1975
M.Sc. Physics, Indian Institute of Technology, Kanpur, 1973
B.Sc. Physics, University of Bombay, 1971