Baoxia Mi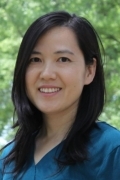 Assistant Professor
Energy, Civil Infrastructure and Climate, Environmental Engineering
Membrane separation, transport and interfacial phenomena, physicochemical processes, drinking water purification and wastewater reuse, desalination, environmental nanotechnology, and innovative applications of membrane technology to renewable energy generation, public health protection, and hygiene and sanitation improvement for underdeveloped and disaster-ridden regions.
Office Hours:
Mon 12:00 pm - 1:30 pm
Wed 10:00 am - 11:00 am
Biography
Baoxia Mi is an assistant professor in the Civil and Environmental Engineering Department at the University of California, Berkeley. She received BS and MS from Tianjin University in China, Ph.D. from the University of Illinois at Urbana-Champaign, and a postdoctoral training at Yale University, all in environmental engineering.  Prior to joining UC Berkeley, she held a faculty position at the University of Maryland College Park.  Currently, she directs the research and educational activities of the Membrane Innovation Lab, studying physicochemical processes with emphases on advanced membrane processes and nanotechnology to address some of the most challenging issues in sustainable water supply (desalination, drinking water purification, wastewater reuse), renewable energy production, and public health protection.
Education
Ph.D. in Environmental Engineering, University of Illinois at Urbana-Champaign, 2006
M.S. in Environmental Engineering, Tianjin University, 2011
B.S. in Civil Engineering, Tianjin University, 1998