Kara L. Nelson
Current Masters Students

John Law
ccljohn123(at)berkeley.edu
John is designing a urine-to-fertilizer pilot for the recovery of nitrogen and phosphorous from human excreta. His research focuses on accelerating urea hydrolysis and optimizing ion exchange processes for sustainable fertilizer production. His broader interests include scaling of novel water/wastewater treatment technologies and nutrient recovery from wastewater.

Hannah Greenwald
hannah.greenwald(at)berkeley.edu
Hannah's current research centers around nutrient-recovery from source-separated urine using ion exchange. Her research interests include water reuse, development engineering, and waterborne pathogens.
Current PhD Students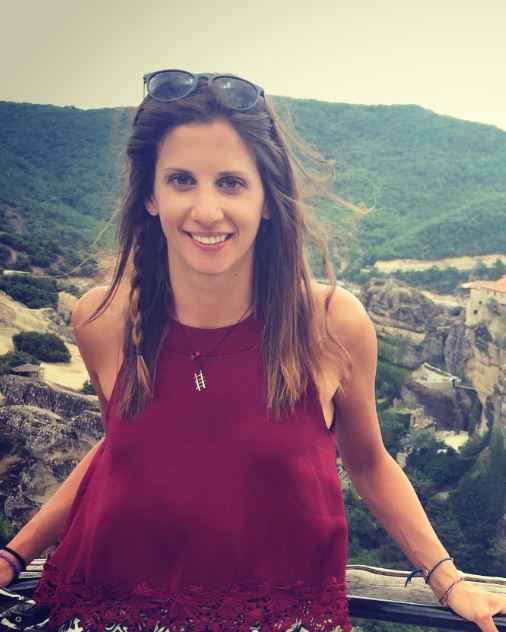 Olga Kavvada
okavvada(at)berkeley.edu
Olga's research involves spatial analysis and life-cycle assessment of decentralized infrastructure, with specific applications on water reuse and nitrogen recovery. She is developing planning support tools and methods to improve the usage of energy and water resources under the constraints of climate change.

Sharada Prasad
sharadaprasad(at)berkeley.edu
Sharada's research is focused on recovery of nutrients, primarily Phosphorous, from human waste, particularly from fecal sludge, and their reuse in Indian agriculture. His work focuses on under­stand­ing poli­cies and reg­u­la­tions that encourage businesses to facil­i­tate reuse of sludge as fertilizer. He is interested in knowing why some farm­ers do not use fae­cal sludge irrespective of its high nutrient value. He is exploring frameworks to quan­ti­fy­ the micro­bial risks involved in collection and reuse of septage, and estimate poten­tial Phos­pho­rous and Nitro­gen that can be aug­mented by reuse. His research also encom­passes social and envi­ron­men­tal jus­tice issues related to sanitation work aris­ing out of caste based dis­crim­i­na­tion in India. He uses photography to communicate part of his research to wider audience.

Rachel Sklar
rsklar(at)berkeley.edu
Rachel's research focuses on identifying mechanisms to make resource recovery sanitation systems viable at scale and protective of public health. Her research aims to develop methods for modeling community and occupational health risks associated with fecal sludge reuse technologies. Rachel is a PhD student in the School of Public Health and her broader research interests include quantitative microbial risk assessment, slum sanitation, and fecal sludge reuse.

Karina Chavarria  
kari07cha(at)berkeley.edu
Karina's research focuses on microbial ecosystems at the interface of drinking water infrastructure and environmental health in low- and middle-income countries. She focuses on the effects of intermittent water supply on bacterial diversity of drinking water to improve our understanding of water quality. Her broader research interests include waterborne pathogens, sustainable drinking water and sanitation, and wastewater reuse.

Scott Miller 
miller.scottevan(at)gmail.com
Scott's research centers on the microbiology of potable water reuse, with a particular emphasis on the effects of direct potable reuse on microbial regrowth and bacterial community structure. His research intends to uncover if unique risks exist for introduction of highly treated wastewater into a potable water distribution system. His broader interests include pathogens in distribution systems, environmental microbiology, and science education.

Erica Fuhrmeister  
efuhr(at)berkeley.edu
Erica's research focuses on water and sanitation in low and middle income countries. She is currently working on a sanitation impact study in rural Bangladesh to assess if access to improved sanitation facilities reduces fecal contamination in the household environment. Her broader research interests include environmental microbiology, pathogen transmission and wastewater infrastructure.

Lauren Kennedy
kennedylaurenc(at)berkeley.edu
Lauren is interested in the impact of disinfectants on microbial communities in drinking water distribution systems and in potable reuse systems.

Dana Hernandez
danaah(at)berkeley.edu
Dana is co-advised by Prof. Ashok Gadgil and studies the attenuation mechanisms (i.e. inactivation versus physical removal) of enteric viruses from complex water matrices using an iron-electrocoagulation (Fe-EC) system, a technology that is employed at large-scale plant in a rural community in West Bengal, India. Dana's incremental study will contribute to the robustness of Fe-EC -- concurrently removing arsenic, bacteria, and viruses from contaminated groundwater on which rural communities rely on for drinking water.
Current Postdoctoral Researchers

Rose Kantor
rkantor(at)berkeley.edu
Rose studies the microbial communities in water for potable reuse using meta-omics techniques. She is interested in changes to the distribution system microbial community with the introduction of advanced treated wastewater. More broadly, she is interested in the microbiology of engineered environments and microbial biotechnologies that improve environmental and human health.
Current Undergraduate Researchers
Former Lab Members
 

 

Will Tarpeh, PhD 2017

Will is currently a postdoctoral researcher at the University of Michigan, Ann Arbor.

 

 

Ileana Wald, Masters 2017

 

 

Andrea Silverman, PhD 2013, Postdoc 2015-2016

andrea.silverman(at)nyu.edu

Andrea is currently an Assistant Professor of Environmental Health at the NYU Tandon School of Engineering.

 

 

Anne Thebo, PhD

athebo(at)pacinst.org

Ann is currently a Senior Research Associate at the Pacific Institute.

 

 

John Erickson, PhD 

john.j.erickson(at)gmail.com

 

 

Andrew Torkelson, PhD 2015

aatorkelson(at)gmail.com

Andy is currently a consultant at Geosyntec.

 

 

Mi Nguyen, PhD 2015 

mi.nguyentra(at)gmail.com

Mi is currently a postdoctoral researcher at Eawag in Dubendorf, Switzerland.  

 

 

Fermin Reygadas, PhD 2014 

fermin(at)cantaroazul.org

Fermin is currently the Director of Fundacion Cantaro Azul a non-profit organization he co-founded that designs and implements safe water, hygiene, and sanitation programs in underserved communities.

         

 

 

Rabia Chaudhry, PhD 2014

rabia999(at)gmail.com

Rabia is currently a AAAS Science and Technology Fellow in Washington, D.C.

 

 

Jannis Wenk, Postdoc 2012-2014  

J.H.Wenk(at)bath.ac.uk

Jannis is currently a Lecturer in Chemical Engineering at the University of Bath, U.K.

 

 

 

Emily Kumpel, PhD 2013

emily.kumpel(at)gmail.com

Emily Kumpel is postdoctoral researcher at The Aquaya Institute in Nairobi, Kenya.

 

 

Temitope Ogunyoku, Postdoc 2011-2013

taogunyoku(at)gmail.com

Temitope Ogunyoku is currently at IBM Research-Africa in Nairobi, Kenya.

 
Postdoctoral researchers (current position): Jee Yeon Kim (2009-2010; Samsung Research Group); David Love (2007-2009; Johns Hopkins University); Allegra da Silva (2008-2009; CDM); Maria Raynal (2007-2008 ; Universidad National Autonoma de México); Tamar Kohn (2004-2006; école Polytéchnique Fédérale de Lausanne); Jose Antonio Barrios (2005; National Water Commission, México)
Ph.D. students: Sintana Vergara (May 2012; World Bank); Michael Fisher (July 2011; Microvi Technologies); Khalid Kadir (July 2010; lecturer, U.C. Berkeley); Ashley Murray (May 2009; Founder, Waste Enterprisers, Accra, Ghana); Gordon Williams (May 2009; Trussell Technologies); Sarah Silkie (August 2008); Brian Pecson (Fall 2006; Trussell Technologies); Tryg Lundquist (Fall 2006; Associate Professor, Cal State San Luis Obispo)
M.S. students: Deepak Subramanian, Alejandro Guido, Jeff Dahm, Forest Kaser, Micah Lang, Fermin Reygadas, Sarah Brownell, Hans Schwing, Amy Pickering, Alicia Chakrabati, IlJoo Yang, Matthew Tolcher 
B.S. students: Fikreselam Habebo, Katya Cherukumilli, Malavika Neti, Douglas Fabini, Joshua Song, Majid Khan, Brian Coox, Ofelia Romero, Rachel Peletz, April Wong, Sonia Lopez, Ali Kattan, Senem Surelli