Iris D. Tommelein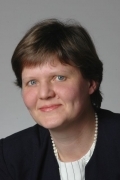 Professor
Director, Project Production Systems Laboratory (P2SL)
Group Leader & Admissions Officer, Engineering and Project Management Program
orcid.org/0000-0002-9941-6596
Engineering and Project Management
Lean construction, supply-chain management, materials management, logistics, design management, construction product and process engineering.
Office Hours:
You may always contact me via email to make an appointment.
NOTE - last-minute changes may be posted on my 212 McLaughlin office door card, but my regular Fall 2018 office hours are:
Monday 2:10 to 3:30
Tuesday 8:30 to 9:50
Wednesday 4:10 to 5:00
Biography
Iris D. Tommelein is Professor of Engineering and Project Management, in the Civil and Environmental Engineering Department at UC Berkeley. Her interests are in developing principles and methods of project-based production management for the architecture-engineering-construction (AEC) industry, what is termed Lean Construction. Her pioneering research in Lean Construction includes teaming up with design specialists, general- and specialty contractors, owners and suppliers to increase process and product development performance.
Professor Tommelein is an expert on Lean Construction, site logistics, layout, operations and methods design, materials management, and supply-chain management. Her work involves computer-aided design, planning, scheduling, simulation, and visualization of construction processes; and the use of information technology including web-based systems, wireless communication, bar-coding, and laser-based positioning systems.
Professor Tommelein served 4 years on the Executive Committee of ASCE's Technical Council on Computing and Information Technology (TCCIT). She was a member of the TCCIT's Database and Information Management Committee, TCCIT's Expert Systems and Artificial Intelligence Committee. She is a member of the Construction Division's Construction Research Council. Professor Tommelein served as the Secretary General of the International Group for Lean Construction until 2017. She served on the Board of Directors of the Lean Construction Institute until 2017.
Professor Tommelein is the 2002 recipient of the Walter L. Huber Civil Engineering Prize from the American Society of Civil Engineers "for her research on civil engineering computing for managing project-based production systems in the engineering-architecture-construction industry".
She received the 2014 Peurifoy Construction Research Award from the American Society of Civil Engineers "for her contributions in developing Lean Project Production theory, methods and tools, and for successfully disseminating these theories, methods and tools into multiple large, complex projects in the US and worldwide."
Last but not least, she received the Lean Pioneer Award 2015 from the Lean Construction Institute (LCI), recognizing an individual (or organization) who has moved the design and construction industry forward in embracing and implementing Lean tools and techniques on capital projects.
Education
PhD - Civil Engineering (Construction Engineering and Management), Stanford University, 1989
MS - Computer Science (Artificial Intelligence), Stanford University, 1989
MS - Civil Engineering (Construction Engineering and Management), Stanford University, 1985
Civil Engineer-Architect (5 year degree) - Free University Brussels (Vrije Universiteit Brussel), Brussels, Belgium, 1984