David L. Sedlak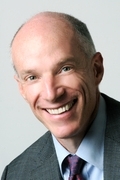 Plato Malozemoff Professor
Co-director of Berkeley Water Center
Director of Institute for Environmental Science and Engineering (IESE)
Environmental Engineering
Environmental chemistry, water recycling, contaminant fate in receiving waters, natural treatment systems, reinvention of urban water systems
Office Hours:
Wednesdays 10-11 AM
by appointment
Biography
Professor Sedlak's research focuses on fate of chemical contaminants, with the long-term goal of developing cost-effective, safe, and sustainable systems to manage water resources. He is particularly interested in the development of local sources of water. His research has addressed water reuse--the practice of using municipal wastewater effluent to sustain aquatic ecosystems and augment drinking water supplies--as well as the treatment and use of urban runoff to contaminated groundwater form contaminated industrial sites as water supplies.

In recent years, his research on the fate of wastewater-derived contaminants has received considerable attention. He began this research in 1996 when he developed simple methods for measuring steroid hormones in wastewater. Since that time, he and his students have studied the fate of hormones, pharmaceuticals, toxic disinfection byproducts and other chemicals. His research team has also studied approaches for remediating contaminated soil and groundwater by in situ chemical oxidation (ISCO) and advanced oxidation processes.
Currently, his research group focuses on topics including:
-The use of engineered treatment wetlands to remove chemical from effluent-impacted waters;
-The fate, transport and transformation of perfluorinated chemicals
-Development of passive systems for treatment of chemicals in urban runoff.
In addition to his laboratory and field research, Sedlak is interested in the developing new approaches for managing the urban water cycle. He pursues these efforts through research coordinated through the National Science Foundation's Engineering Research Center for Reinventing the Nation's Urban Water Insfrastructure (ReNUWIt) and the Berkeley Water Center. He also is the author of "Water 4.0", a book that examines the ways in which we can gain insight into current water issues by understanding the history of urban water systems.
Meida Coverage
Radio Interview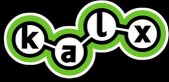 Listen to KALX 90.7 FM radio interview with Professor Sedlak talking about ReNUWIT.
Runner-up Best Technology Paper

Professor Sedlak's paper with UC Berkeley doctoral student, Eva Agus, and two colleagues from Singapore Public Utility Board was selected as first runner up for best technology paper in the ACS journal Environmental Science & Technology.
Chlorine Substitutes In Water May Have Risks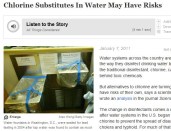 Professor Sedlak was recently featured on NPR's All Things Considered in a piece titled "Chlorine Substitutes In Water May Have Risks."
"The change in disinfectants comes a century after water systems in the U.S. began adding chlorine to prevent the spread of diseases like cholera and typhoid. For much of that time, people thought chlorination was completely safe, says David Sedlak from the department of civil and environmental engineering at the University of California, Berkeley."
Read more about this story or listen to the story here.
Short-Circuiting the Hydrologic Cycle to Meet Urban Water Needs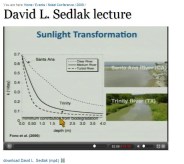 Professor Sedlak presented at the 2009 Nobel Conference at Gustavus Adolphus College. The conference theme was "H2O Uncertain Resource" and Professor Sedlak's lecture Short-Circuiting the Hydrologic Cycle to Meet Urban Water Needs was webcast and recorded.
Watch David's lecture here.
Solar on the Water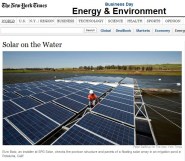 Professor Sedlak was recently interviewed for a New York Times article on the feasibility of installing solar panels on irrigation ponds.
"Irrigation ponds have the potential to become algal sources and algae can cause all sorts of issues," said Dr. Sedlak, co-director of the University's Berkeley Water Center. But he said he doubted that stemming evaporation would be a big selling point for floating solar panels since irrigation ponds did not lose that much water to evaporation.
Read the article on the New York Times website, or the Seattle Times website.
Links
Environmental Science & Technology [Associate editor]
NSF ERC Re-inventing the Nation's Urban Water Infrastructure [Deputy Director]
2012 Gordon Research Conference-Environmental Science: Water
Education
Ph.D. - Water Chemistry, University of Wisconsin at Madison, 1992
B.S. - Environmental Science, Cornell University, 1986