Sally Thompson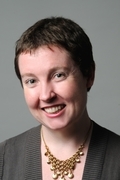 Associate ​Professor
Environmental Engineering
Ecohydrology, surface hydrology, spatial ecology, arid and semi-arid watersheds and ecosystems, pattern formation, nonlinear dynamics, plant physiology, water resource sustainability.
Office Hours:
Fall 2015:
Monday / Wednesday - 4:30pm
please email for appointment outside of the hours above
Biography
Dr. Thompson is associate professor of surface hydrology at UC Berkeley.  She originally trained as an environmental engineer at the University of Western Australia, and worked for several years as an environmental engineering consultant.  Dr. Thompson undertook her doctoral work in the Nicholas School of the Environment at Duke University as a General Sir John Monash Fellow, and worked as a research specialist at Duke and Purdue Universities prior to her appointment at UC Berkeley.
Education
August 2006 to May 2010: PhD, Environmental Science. Duke University
Jan 1998 to November 2003: Bachelor of Engineering (Hons.), Environmental Engineering, University of Western Australia (UWA)
Jan 1998 to November 2001: Bachelor of Science (Hons.), Environmental Chemistry., University of Western Australia (UWA)